LANBENA Vitamin C Serum+Hyaluronic Acid Serum Anti-Aging Moisturizing Whitening
-50%
LANBENA Vitamin C Serum+Hyaluronic Acid Serum Anti-Aging Moisturizing Whitening
Product Code:
Availability:In stock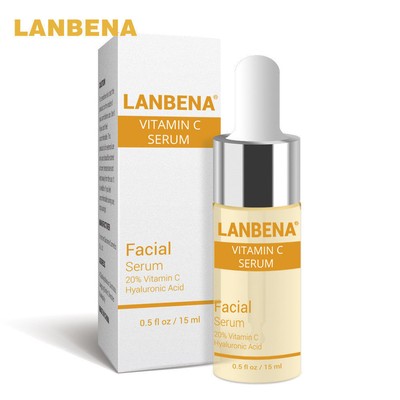 20% Vitamin C Serum combines the highest quality Vitamin C creating a
antioxidant effect that permeates skin smoothly and helps lighten and brighten
your skin. This incredible formula fades sun spots, discoloration and refines skin
texture leaving you a youthful glowing appearance!

Whitening: Rich in VC, this product has efficient whitening and freckle removing
properties, making it capable of brightening and moisturizing the skin, and
rmoving stains and freckles.

Ingredients:
Water, Glycerol, D-mannitol, Collagen hydrolyzates, Carborner, Human
oligopeptide, Hyaluronic Acid, Vitamin E Acetate, Allantoin, Hydrogenated Castor
Oil, Hydrolyzed vegetable Protein

Hyaluronic Acid Anti Wrinkle Face Serum 15ml

Features:
✅Hyaluronic Acid Serum helps reduce fine lines and wrinkles. Instantly brighter complexion. Hyaluronic Acid
✅effectively binds water to cells and is responsible for the elasticity and resiliency of the skin, that are
✅keeping you from achieving the ultimate natural glow. Keep Your Skin Moist and Youthful With Hyaluronic Acid! It is a natural ingredient for humanskin. ✅Look Younger the Natural Way. Making it so deliciously soft and smooth.
✅REFINE- Clinically proven hyaluronic helps reduce appearance of fine lines while brightening skin tone.
✅HYDRATE- naturally molecules hold up to 1000 times its weight in water, meaning you gain the plumping
benefits of this activity.
✅SMOOTH- Apply to face and neck daily for smoother, healthier looking skin.
✅SAFE- All skin types, no harmful ingredients, cruelty free.
✅MOISTURIZING- Within moments of using this powerful Hyaluronic Acid Serum, dramatically increases moisture content of the skin resulting softer, smoother, plumpier and younger looking skin. Improve skin texture and brightness with intense moisture and balance.


Specifications:
✔️Brand: LANBENA
✔️Gender: Unisex
✔️Color: Clear
✔️Skin Type: All Skin Types
✔️Formulation: Serum
✔️Concerns: Ruduces fine lines, Improves loose skin, Moisturizes the skin
✔️Target Area: Face, Neck
✔️Expiration Date: 3 Years
✔️Weight: 0.5 fl.oz./15ml
✔️Size: 3*3*7cm/1.18*1.18*2.76 inch (approx.)

How to use:
Directly Apply:
1. Cleanse the face, apply Six Peptides Serum 24K Gold liqiud.
2. Reapply it to the positions exposed to fine lines.
3. Gently apply from the bottom up, and inside to outside with finger pulps.
4. Gently massage the face with the palm for better absorption.
DIY Facial Mask:
Fully soak a compressed facial mask with essence liqiud, apply the mask on the face and leave on for about 15 minutes. Then peel it off and follow with normal skincare.
Use with Lotion or Cream Together:
When applying lotion or cream. take several drops of essence liqiud into the skin care product to get optimal results.
DIY Facial Mist:
Combine with hydrosols or distilled water and pour into a spray bottle. Spray it at anytime and anywhere for moisturizing and caring the skin.