Innovative Measuring Spoon
-50%
Innovative Measuring Spoon
Product Code:
Availability:In stock
 When it comes to convenience in the kitchen, this innovative measuring spoon makes cooking easy and precise.
Introducing the LCD DIGITAL scale spoon with high precision sensors.
The electronic measuring spoon with sleek LCD display models, which is clear and easy to read.
This smart spoon scale is a versatile kitchen device displaying readings in 4 different units (g, oz, gn, ct).
With auto-off function, the spoon scale will automatically turn off after idling 1 minute, saving battery power and money.
The readings will auto hold when it reaches a stable weight, press the hold button to unlock the screen.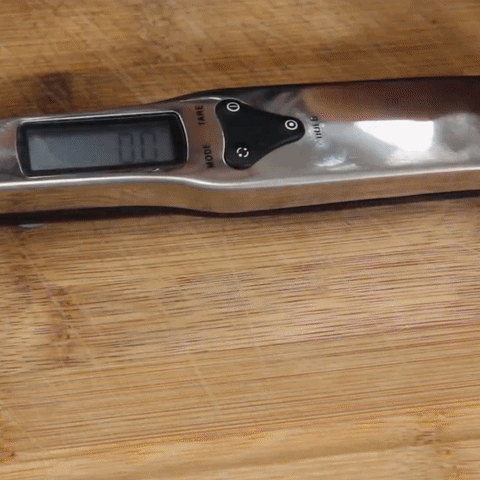 HOW TO USE
MODE function allows you to switch among different units
TARE function helps to weigh up precisely subtracting the weight of the container
HOLD function will lock or unlock the weight readout
FEATURES
100% brand new and high quality with competitive price.
Fit for your kitchen and daily diet designing.
Beautiful appearance, special surface treatment.
Wide LCD screen display, easy to read.
Low power consumption, Low battery indicator.
Digital spoon scale with LCD display.
Ideal tool to weigh butter, flour, cream, tea or spices during cooking or baking.
Balance adjustment function ensures your precise measurement.
SPECIFICATIONS
Type: Measuring Spoons
Material: Stainless Steel + Plastic
Feature: Mini LCD Display
Size: 23x5x2.3cm
Spoon Size: 5*6.5cm
Measurement: 300g/0.1g
Volume of spoon: 0 - 30ml
Working Temperature: 0°C -40 °C
Maximum Precision scale: 300g.
Minimum Precision scale: 0.1g.
Power: AAA x 2 (Not Included!)
Package: 1 Spoon Scale + 1 English Manual